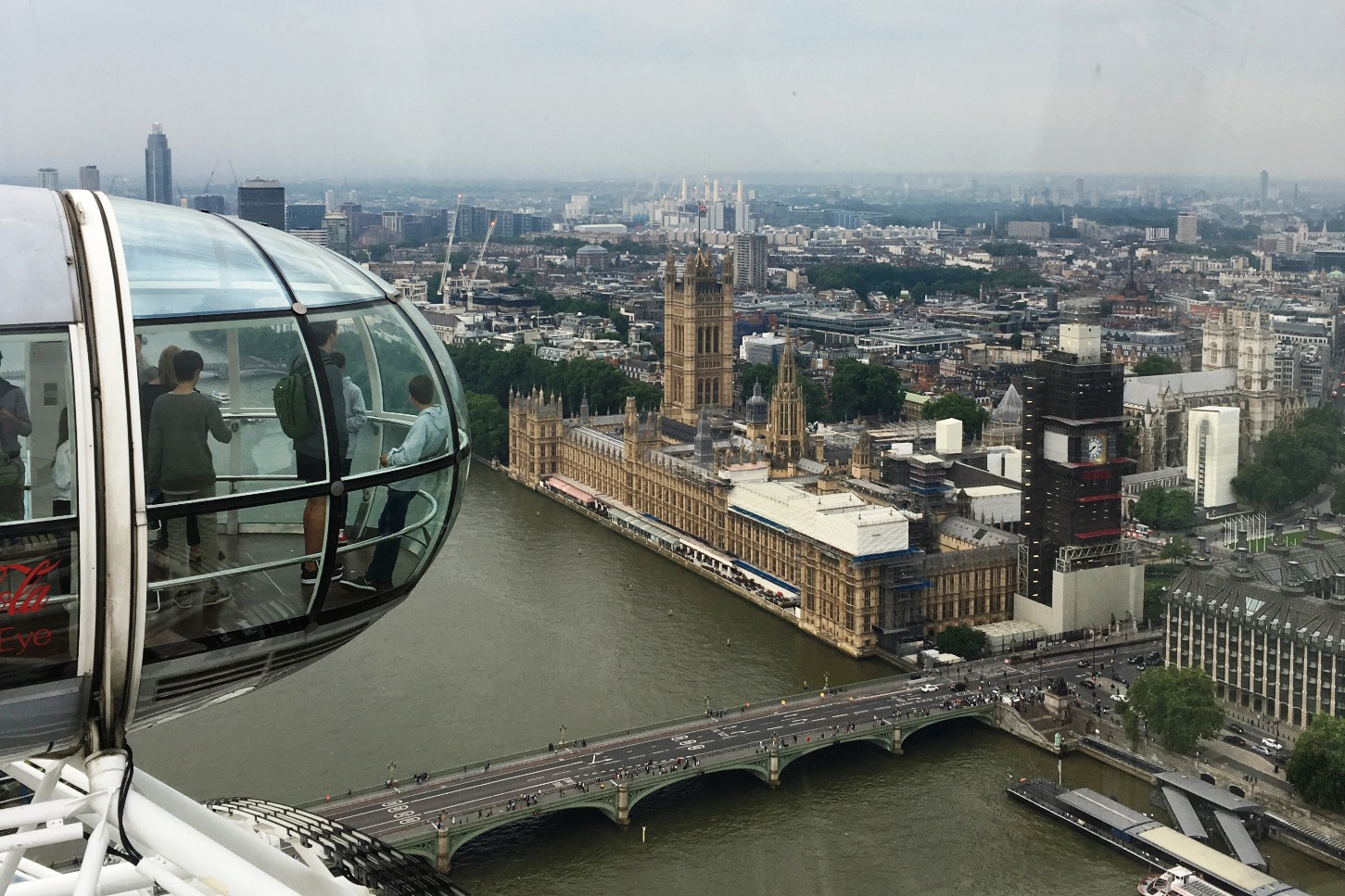 Zur Bildergalerie Foto anklicken!
"There's nowhere else like London. Nothing at all, anywhere" (Vivienne Westwood).
Wir, die Klasse 7B des Borg Lienz, besuchten vom 22. Juni bis zum 27. Juni 2019 die Stadt London. In Begleitung von Mag. Sonja Winkler und Mag. Katharina Rossbacher besichtigten wir zahlreiche Sehenswürdigkeiten. Neben den Hauptattraktionen der Stadt wie London Eye, Buckingham Palace, Houses of Parliament, Tower of London mit Tower Bridge oder Globe Theatre wurden auch Schwerpunkte passend für unseren Zweig gesetzt.
So entpuppte sich die Street Art Tour quer durch die Stadt als eines unserer Highlights, da wir vielfältige Eindrücke über die Straßenkünstler von London sammeln konnten. Auch die Warner Bros Harry Potter Tour war für uns als Kunstklasse sehr sehenswert. Dabei wurde uns bewusst, welcher Aufwand für der Produktion eines Films betrieben wird. Die Musicals Mamma Mia und Lion King rundeten das vielseitige Programm unserer Reise ab.
In den fünf Tagen festigten wir unser Sprachgefühl und bekamen auch einen guten Einblick in das Alltagsleben der Briten. Besonders aufgefallen ist uns die Freundlichkeit und Höflichkeit der Menschen, vor allem bei den Guides.
Auch unsere Gruppe nahm die Stimmung der Briten auf und so wurde durch den freundlichen Umgang untereinander die Londonwoche zu einem unvergesslichen Erlebnis. (Linda Gander und Lisa Mair)
Our trip started on Saturday the 22nd of June, 2019 in Lienz at 4:00 a.m. Our flight took off from Munich and after a long journey on Saturday we arrived a bit tired but with much anticipation of the following days in the hostel "Safestay".
On the first day we had a great tour of Westminster with a brilliant guide and afterwards we had dinner in Chinatown. It was quite impressive to see lots of Chinese restaurants and the atmosphere of this part of London. The first day in this city was already a highlight for me. (Sarah Joas)
Our school trip to London last week was quite exciting but also very exhausting. All the people and guides were very friendly and quite funny, which made every tour special. Nearly all the things that were planned to do were interesting, but some of them were also very exhausting because on some days we returned home late and had to leave early in the morning.  (Sarah Zankl)
Although I had never been to London before, I really liked the trip. The city was really beautiful, especially the many old houses made of bricks. On Tuesday we ate the traditional food of London called 'fish and chips'.Going by underground was really exciting and and it was complicated to get the right train. But our teacher was very well organised, so we didn't make any mistakes. (Elena Hanser)
On June the 25th we visited the Tower of London and the Tower Bridge. We were also in the famous Harrods store. Afterwards we were in the Victoria Albert Museum und had a Street Art Tour with a very cool guy. The tour itself was very cool and awesome.
(Hannah Unterweger)
We always looked out for one another in the underground stations during the rush-hours so as not to get lost and when we had free time we stuck together and never went anywhere alone. The teachers were helpful by telling us where we were heading in case we lost someone. On such a school trip you can see so much more than when travelling on your own. If you have the chance, do it! (Natalie Reinisch)
Probably the best thing about our trip was the street art tour. You got to know all the different types of street art. For example, spraying, putting stickers on the wall,… Although my feet hurt because of the long distance we had to walk, I would say it was the best thing we experienced in the whole week. Our guide was also pretty cool and you could easily see that he lives his job. He knows so much about the different artists. At every location, he told us a thrilling story of some well-known and some unknown street artists. We learnt a lot about the world-famous artist called "Banksy". Nobody really knows who he is, but almost every teenager knows at least one story of him. For example, there was a small "fight" between "team ROBBO" (the most famous sprayer at his time) and Banksy. (Marie Thalhammer)
I especially liked the Westminster Tour with our guide Oliver. He planned the tour in a very interesting way and so we got a lot of information about the highlights of Westminster. On the way to Buckingham Palace we went through a park where we saw some cute parrots and squirrels.
Furthermore, the Warner Bros Harry Potter tour was one of my personal highlights.  Looking behind the scenery of such a famous film was so exciting and fascinating - all the special effects and the expenditure. I had some goose-pimple-moments!!
In addition to that, the Lion King Musical surpassed my expectations! The lavish scenery, the music and the dancers were great! It was a perfect ending of the trip. (Lisa Mair)
My personal highlight was the Lion King Musical because it was just fantastic. Although it took nearly 3 hours it wasn't boring. Normally I am not very interested in musicals but The Lion King was so touching and the time passed quickly. It is a musical for everyone. The scenery was very lavish. There were revolving elements on stage which were very impressive. The actors were awesome. They sang very well and also the dancing was pretty damn good.
During our school trip we have experienced the atmosphere in London. The British people were so friendly and helpful. I noticed the courtesy of the English. Although London is such a big city there was little stress and nobody was unfriendly.
Our group took over the good vibes of the British people. The teachers were very relaxed and it didn't feel like a school trip. Nobody was homesick or sad and we had a lot of fun!
I think students profit from this journey because it improves their knowledge of English. Besides, it is not only positive for the team spirit between classmates but also between students and teachers! (Linda Gander)
All in all, l I think school trips like this are really important, not only for internalizising the English language, but also for strenghtening the ability of working and living together as a team. I'm thankful for the experience I have made in London and one day I would like to visit London again. (Lisa Suntinger)
One day I will return to London and maybe for a longer time because I´m fascinated by the life-style of these people and the many cultures that live in this big city. Another point is that I want to improve my English. For me it is better to be alone in the city because in this case I have to use this foreign language. (Lorena Pucher)
In London, everyone is different, and that means anyone can fit in.- Paddinton Bear
My friend and I always made small naps in the subway and so we were full of energy even if we seemed tired after such long walks from one destination to the other. The organisation was also good and I felt like both teachers knew where to go and also they told us as much background information as they knew. The atmosphere was very relaxed and everyone seemed happy.
Another very important point was the food. In London you can find sooo many different food locations. From Chinese food and burgers to sweet waffles we tried everything and after such long walks we really enjoyed having a break and sitting down. One evening we spent in a typical pub, which was one of the best experiences. Eating fish & chips is something everyone should do when in London. WE SAW THE QUEEN! Naturally not in real-life but in Madame Tussauds. (Verena Hofmann)